Hello friends! My first home was a townhome and it was a wonderful first home for a 22-year-old single female, a couple of roommates, and her dog. While I think a townhome can be an excellent option for first-time homebuyers and especially those who are empty nesters, people from all walks of life may also find townhome life perfect for them. Let's dive into the topic of townhouses a bit today, shall we?
A townhouse also called a townhome, is an individually owned dwelling that shares at least one wall with another unit and has its own entrance accessed directly from the exterior. As a townhome owner, you own the interior as well as your share of the exterior and the land your townhome sits on, however, the exterior is insured and maintained by a homeowner association (HOA), also known as a common interest community(CIC). They're typically more affordable than single-family homes but have less privacy and freedom to modify the exterior.
If you are considering purchasing a townhome (I assume that's why you are reading this!) you will want to look into the HOA/CIC rules on what can or can't be done outside as well as pet regulations etc. I recently wrote an article you should check out: Belonging to An HOA: Yay or Nay? Older townhome communities tend to be more lax with exterior maintenance while newer ones are more rigid. It's important that prior to purchasing a townhome you review the documents provided by the HOA/CIC; namely the declaration and any amendments; bylaws, articles of incorporation, and rules and regulations.
Quad / 4 Corners Style
This is my favorite style for a few reasons. The quad-style townhome is exactly as its name implies. A building divided into 4 even-sized units, each unit with two exterior walls and two interior walls up against a different neighbor. Everyone gets a corner of the greater building. Most units built in our area during the 1970-1990s were typically the split entry style, very similar to the bi-level split entry houses you see all over the Twin Cities suburbs still today. Newer quads are often one-story units usually without basements, with many designated for people over the age of 55.
This style of townhome offers a decent amount of privacy. Two exterior walls mean twice the natural light and better airflow when the windows are open in Spring and Fall. They usually have a two-car, tuck-under garage adding separation from your neighbors. Often there is a lower-level walkout with a patio under an upper-level deck. Many of the homes built 40-50 years ago have undergone some major interior remodels by now, often creating more open, modern spaces and finishing any unfinished lower-level spaces.
Row / Side-by-Side Style
By far the most common and popular style of townhouse in Minnesota and Wisconsin is the side-by-side style. There are really two main types here. The first, shown below, is simply a row of units where the mid units have the front and back of their units facing the exterior (great for a cross breeze), and the end units, usually more expensive, are typically larger and have 3 sides facing out with only one shared wall. The second style, typically much smaller, will have another row on the back side, thus making the middle units locked on 3 sides with only the front wall for an exterior facing side.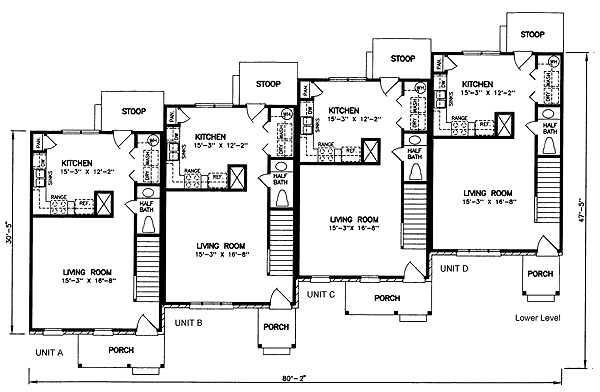 Detached Townhomes
At first glance, a detached townhome looks like a single-family home. After all, there are no shared walls with a detached townhome and they can be one-story or multi-level. There are some key differences that for some, make this the best of both worlds. A detached townhome typically has a much smaller yard and is generally a smaller home size as well. The neighborhood looks very coherent (much like a neighborhood of single-family homes that are part of an HOA). However, the homeowner's association manages the external maintenance including landscaping, lawn care, snow removal, and oftentimes, even roof and siding maintenance.
So, if you think a townhome might be right for you, that's great! Purchasing a townhome (or condo) is very similar to purchasing a single-family home. Be sure to connect with your agent to discuss your needs to determine which style is best suited for you!
Check out available townhomes in the Twin Cities here!
Until next week, my Friends, have a great day!
Don't want to miss any posts? Subscribe to my blog!